The SeXY Factor
Why do men want sex and women want love?
Why do so many working mothers feel guilty and so many two-career marriages end in divorce?
Why do men continue to predominate in engineering and scientific fields?

Contrary to what many of us think, the reasons have little to do with the toys we were given to play with as children or the social pressures we experienced while growing up. Men and women are different because we were programmed that way by our genes and our hormones even before we were born.

What's more, these differences have evolved over millions of years of natural selection and they are there for a good reason—they ensure the survival of our species.
The Free Child
FOR THE FIRST TIME:
The key to solving all your child-raising problems, based on self-discipline and freedom of choice
A fundamental set of values which children can easily integrate from their own experience and their parents' example
A revolutionary method which prepares your child to take his place in the world as a confident, capable individual
A practical and comprehensive guide ranging from self-feeding to sexual responsibility
Do you often wonder if you're doing the best you can for your children?

Do you feel at times that you've been unfair with them, or you have handled a situation badly?

The majority of books on childrearing offer good ideas for solving specific difficulties, but they have no consistent rules that can be applied to all age groups and all problems.

Here this book departs radically from the standard literature. It describes a simple philosophy that may be applied to all aspects of the parent-child relationship, and thus provides basic guidelines for solving any problem that may arise.
It aims to show that parents and children can live in mutual respect, esteem and happiness, and share the same- values – values so elementary that they can be thoroughly integrated by the age of five.

If you would like to have the joyful experience of sharing your home with happy, confident, independent, responsible and self-disciplined children, then this book is for you.

Fully illustrated, with concise summaries of every chapter, suggestions for supplementary reading, bibliography and index.
Do Not Undertake Overland Trip Through Dirty Disease Ridden Africa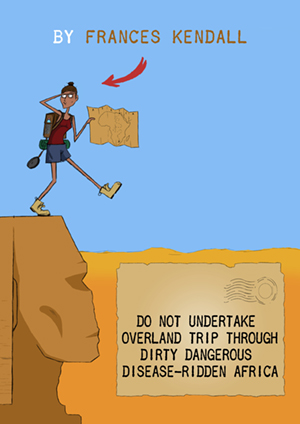 In 1972, 25-year-old adventure-seeker, Frances Kendall decided to backpack overland from Egypt to Johannesburg, South Africa.
A few days before she set off on this momentous journey - long before smartphones and Whatsapp - Frances received a telegram from her dad, which read: DO NOT UNDERTAKE OVERLAND TRIP THROUGH DIRTY DANGEROUS DISEASE RIDDEN AFRICA. Click here for link to Amazon Kindle version.

In her travel memoir, titled after this iconic telegram, Frances shares the diaries she kept and posted to her parents during her journey through "dirty, dangerous, disease-ridden Africa".
In this lively account she entertains readers with evocative descriptions of fourth class travel, magnificent monuments and breath-taking scenery at a time when tourists were rare. Join her in Egypt as she climbs the Great Pyramid of Giza and cycles to the Valley of the Kings. Meet the other backpackers and local tribespeople with whom she shares the deck of a Nile steamer in the southern Sudan. Visit the pygmies at the foothills of the Mountains of the Moon, and return with her to her childhood home in Kenya. You will be entertained from the very first page to the last as Frances regales you with stories of her travels, her insights and the people she meets along the way.
This book is for any avid traveler - or armchair traveler - who loves a great travel memoir, especially one illustrated with maps and sketches and set in the 1970s era of civil rights and womens' lib and me-too moments. And don't miss the appendix, which covers Frances' travels hitchhiking with a girl-friend through Europe.
Kendall's earlier books
1987 South Africa The Solution, Amagi Books (with Leon Louw)
1989 Let the People Govern, Amagi Books (with Leon Louw)
1991 Heart of the Nation, Amagi Books
1993 The SeXY Factor: Gender differences at home and at Work, Amagi Books
Updated edition of Heart of the Nation will be published as Kindle eBooks in 2019.